Self Adhesive Towel Holder, 15.75 inches Stainless Steel Bathroom Towel Rail Wall Mounted Paper Towel Holder for Kitchen, Bathroom
Product Description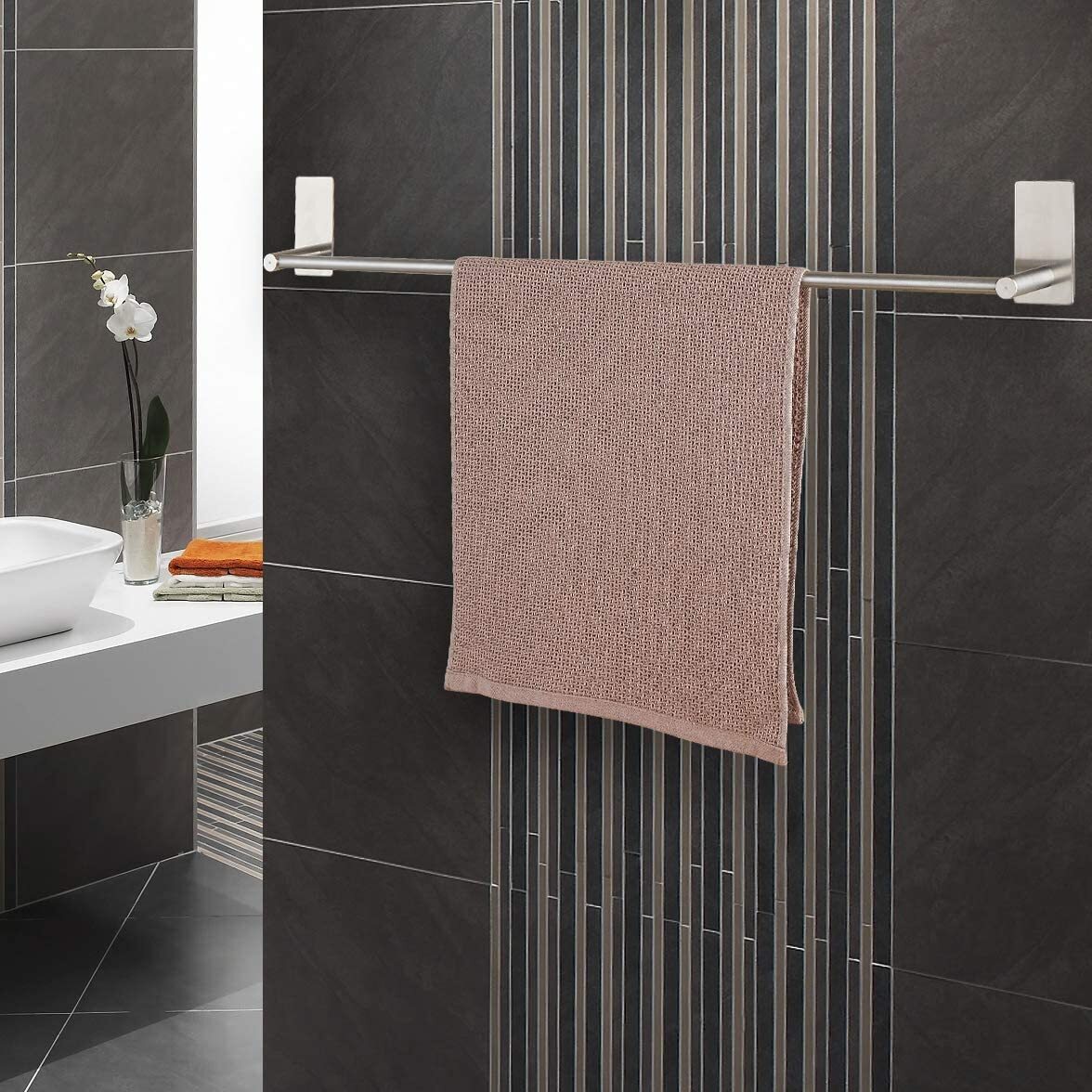 Do you want a clean and tidy bathroom?
Are you tired that your towels are always wet?
Vista 40cm self-adhesive towel rail is your right choice!
1. Our towel rail is made of high quality stainless steel, beautifully designed, strong adhesion, easy to use, and take home, 100% will definitely help you maximize your space.
2. 3M Self-Adhesive,sticks strongly to the wall or tiles.Don't worried that moisture in the air from using the shower or bath would cause the adhesive to become loose.
3. If you don't like to ruin the bathroom tiles by drilling holes to put the Towel Rail, so used an adhesive paper holder to keep you tiles safe.
4. The mounting side employs high strength 3M secure adhesion on a wide variety of surfaces including painted textured wallboard, dry wall, ceramic and porcelain tile, granite, glass, metal, cultured marble, plastic and paneling.
5. It can be placed next to the bathroom wall next to the shower so that you can reach your towel easily; used them in the kitchen to hold your tea towels or organize cooking utensils,it is perfect for your life!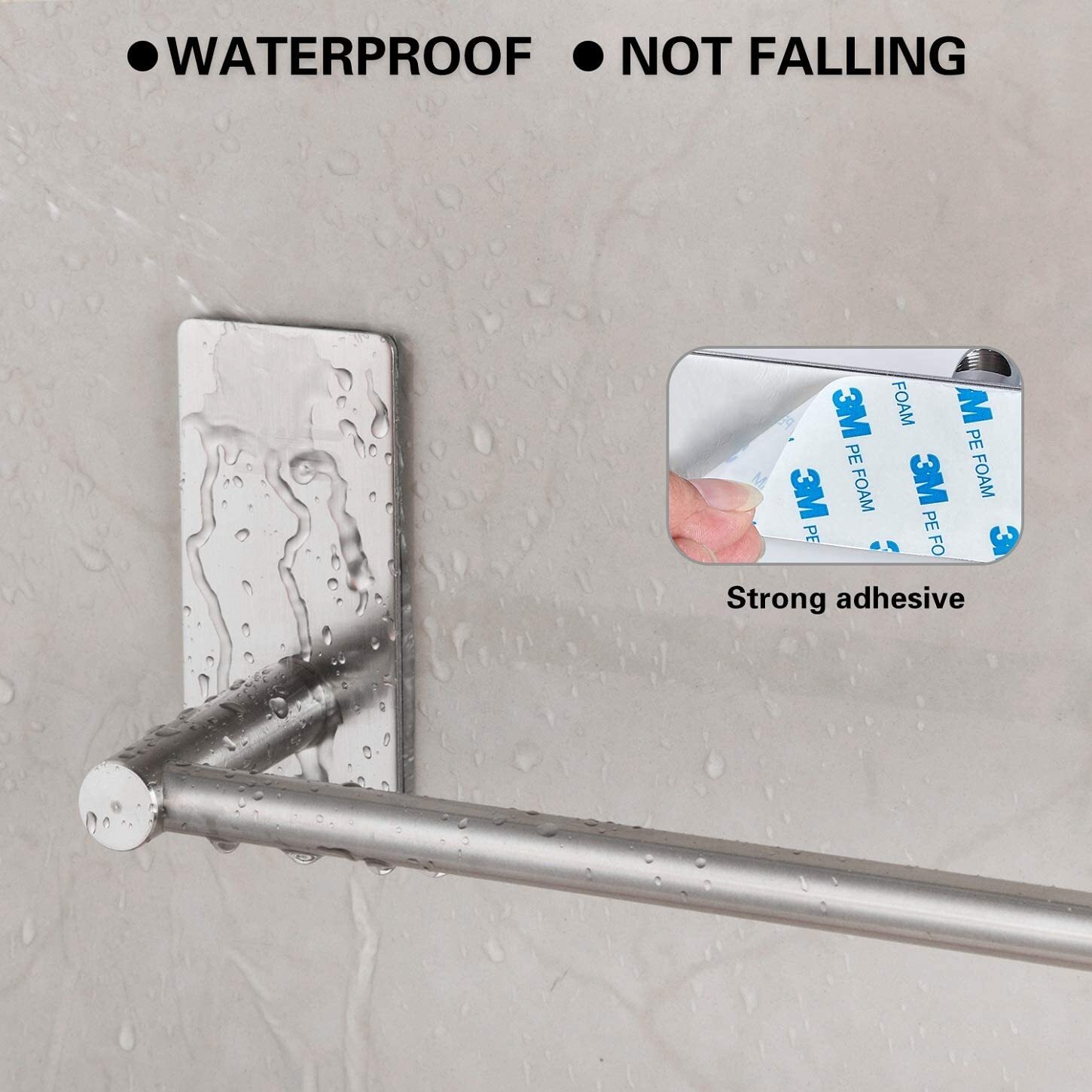 How to best paste the Adhesive Towel Rails?
Step 1: Please keep the surface dry and dust-free before you pasting the sticker.
Step 2: Please try to paste the sticker evenly and smoothly.
Step 3: Press it properly for 30 seconds and waiting 24 hours before using.
Warm tips:Towel rails is very easy to install, plan before you stick,the adhesive doesn't give you a second chance.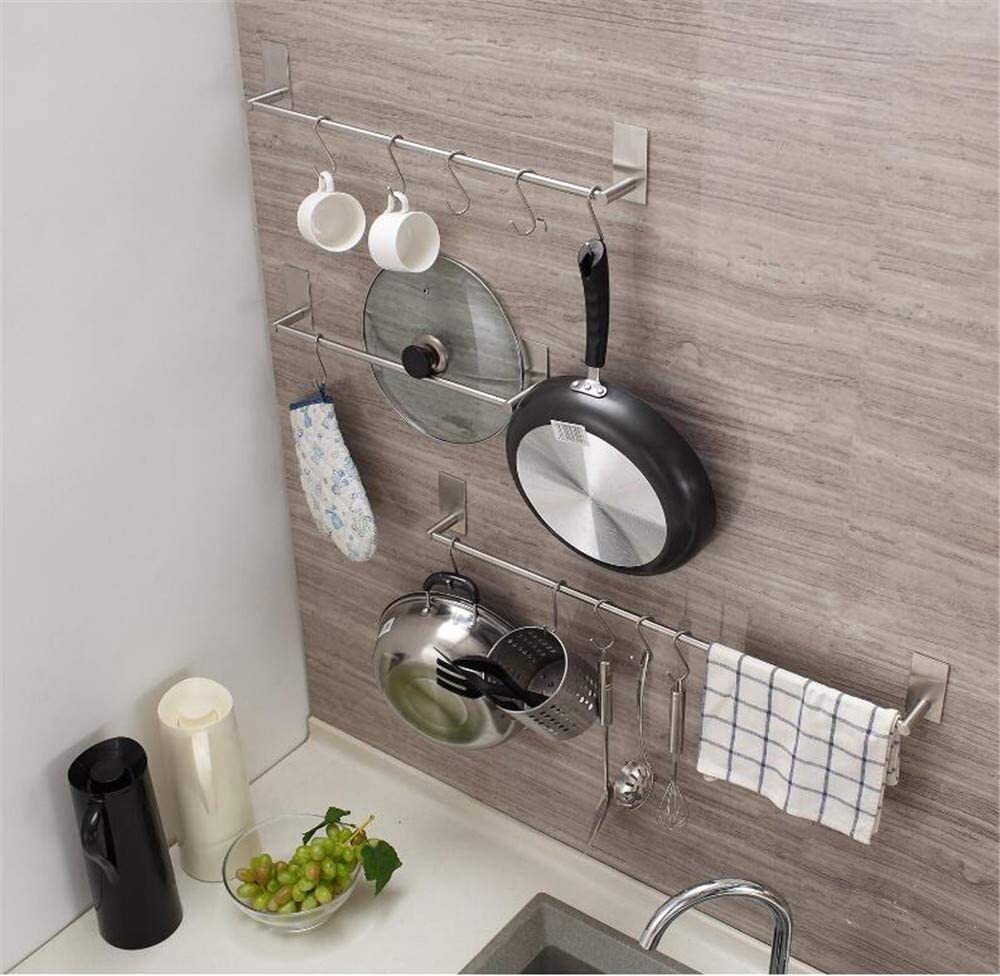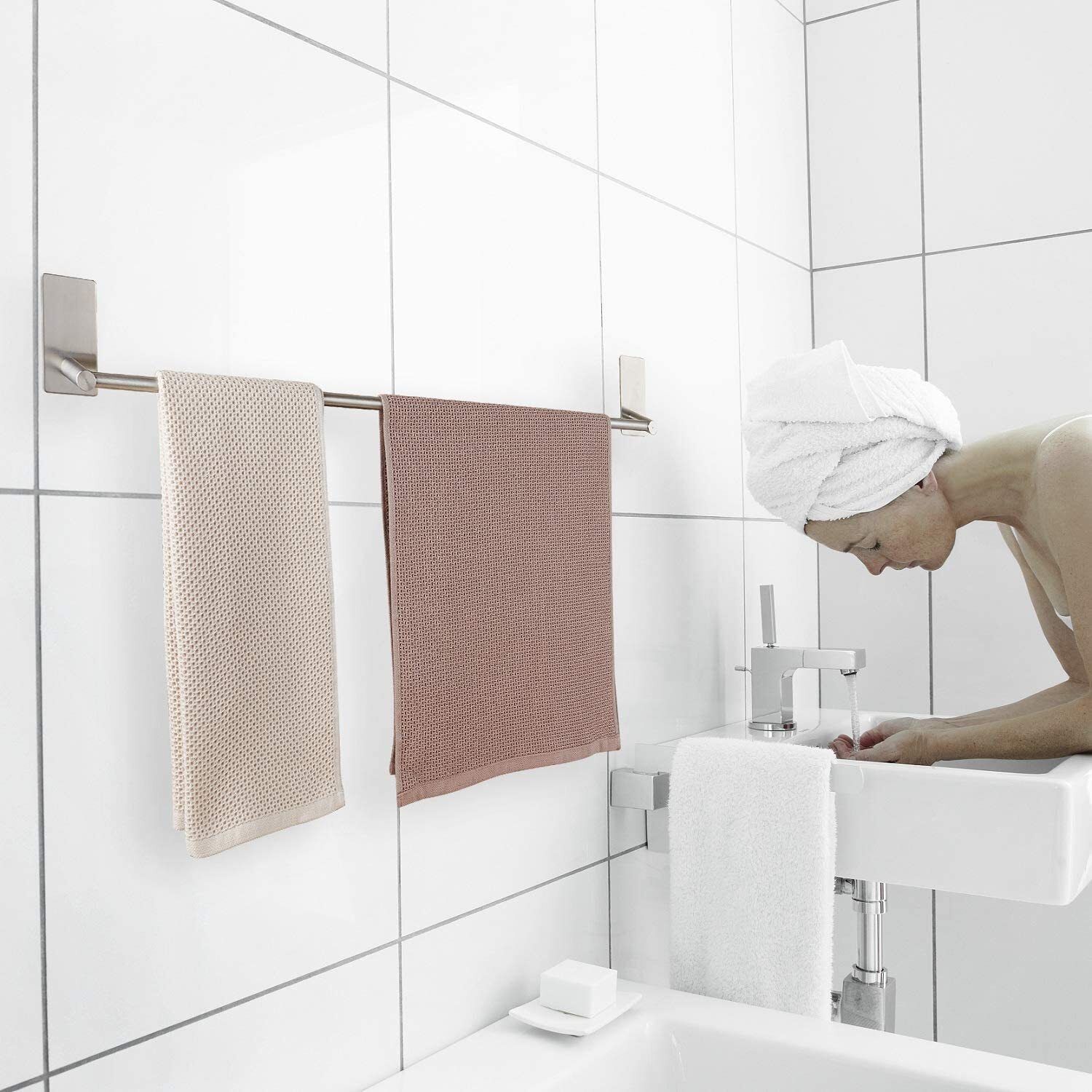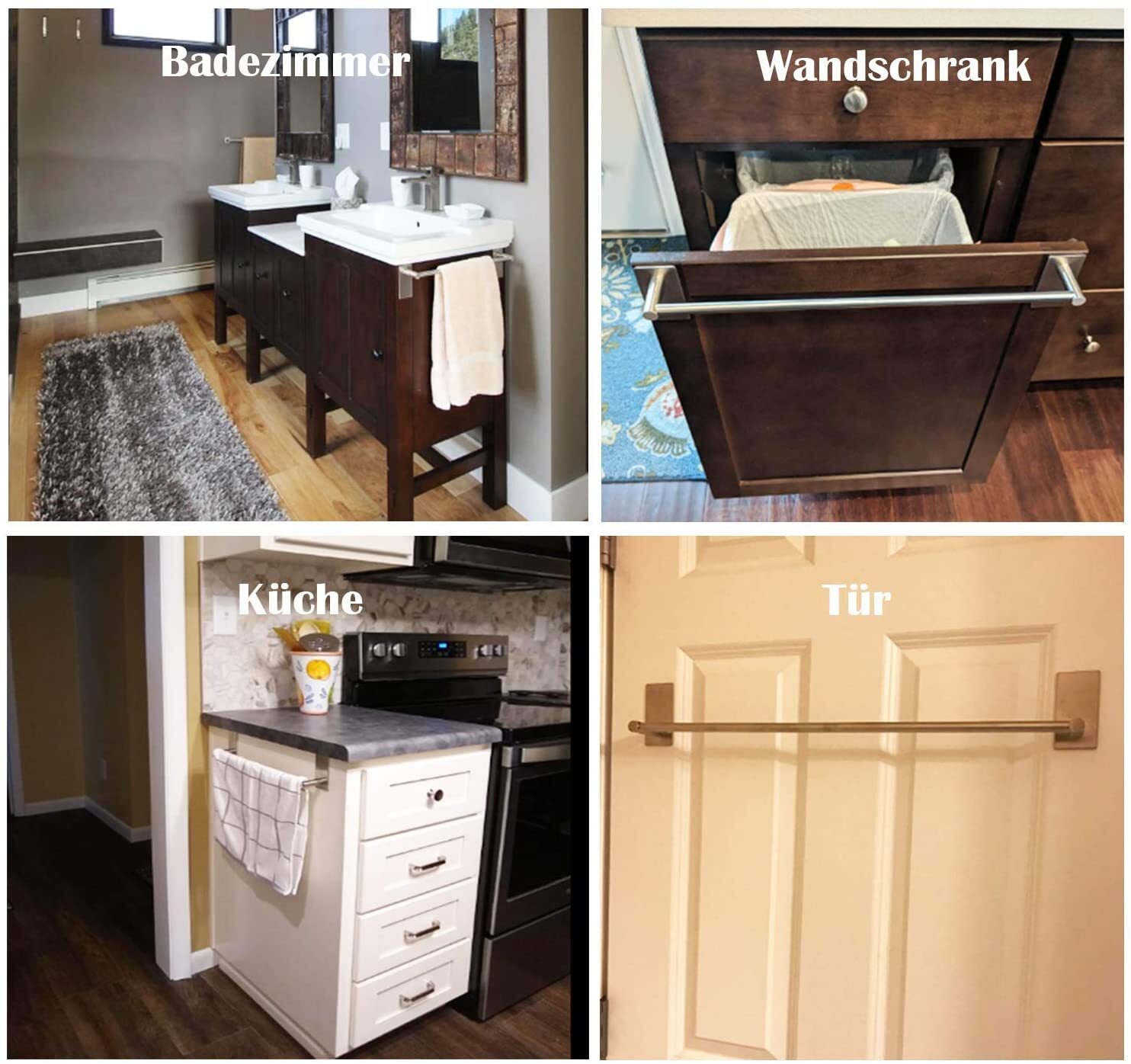 Wide Application:
1.【Holding Strong】3M Sticky Backing,extremely strong self adhesive and protects against water.Recommend you clean and dry mounting surface throughly and press firmly to the wall for s good 30seconds to get a good fix. Please wait for 24 hours before you place something.
2.【Stainless steel towel rail】304 stainless steel and brushed finish, anti corrosion & rust, resist daily scratches, ensuring durability and dependability. Towel Rail Holder is manufactured to standards that ensure the highest strength and durability in wet environments - it is ideal for use in bathrooms, kitchen, etc.
3.【Save Floor Space】DIY installation saves space and no need to drill holes in the walls. Best for towel,tea towel, cloakroom etc.
4.【Suitable for Home】Ideal for hanging heavy towels,bathrobes,coat,hat,keys and chopping board in the bathroom and kitchen and bedroom. Works on a variety of surfaces, like tile, wooden doors,Ceramic,plastic surfaces,Metal Surface and more (Not suitable for not smooth wallpaper.)

Your cart is currently empty.